New API-based infrastructure and health ecosystem allows insurers to create and manage bespoke health customer journeys, 
New partnerships with major insurers, Generali, Cigna and PFI, targeting 10 markets within 9 months, in Asia, Europe and Latin America, 
Revenue tripled in 12months, reaching positive EBITDA,  
Serviceable members passed 4 million, including 200,000 yearly paid members, growing by 400% in the past 6 months, 
Additional capital as part of ongoing B financing round from Apis Insurtech Fund I and other new and existing investors. 
Hong Kong, September 3rd 2021 – The multi award winning health insurtech, The CareVoice, has today announced numerous firm updates, including launch of its upgraded operating system as an API-based infrastructure and health ecosystem, new collaboration with several major insurance companies, a progressive roll-out across multiple countries from Asia, Europe and Latin America, and additional capital as part of ongoing B financing round.
The new operating system is a major evolution of CareVoiceOS, the company technology platform and first healthcare operating system for insurers, which enables insurers to create and manage bespoke health customer journeys, within their own apps.
"More and more insurers are embracing the move to open platforms and digital ecosystems. Our new offering gives them an efficient way to be competitive in a fast-transforming industry by combining compelling health services with their insurance products, and digitizing their customer experience, all under their own brand." said Neil Liang Co-founder & CPO at The CareVoice.
CareVoiceOS – from 1.0 to 2.0
CareVoiceOS was launched in 2019 using the CareVoice app which aggregated different health technologies and services for customers of insurers. The operating system drove the company's growth through many partnerships with insurers, enabling them to design and release population-specific health insurance and related customer experiences.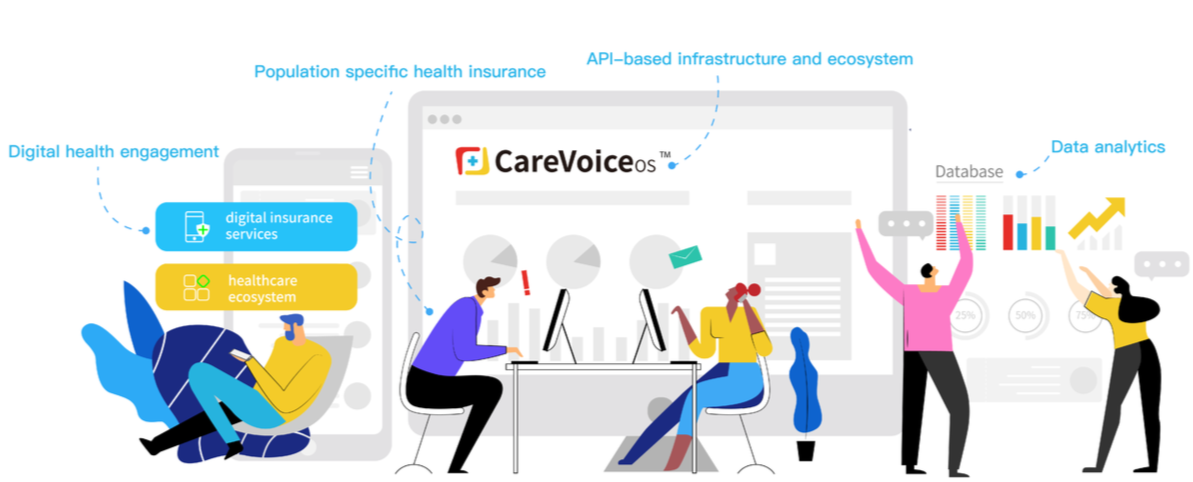 Illustration of CareVoiceOS 2.0
The recently launched plug-and-play open platform (version 2.0) allows insurers to orchestrate a health ecosystem and create their own solutions, thus opening the market to insurers who did not want to use a third-party app. Through its API, CareVoiceOS enables multiple front-end solutions for insurers, giving them the ability to engage with their existing and future customers on any channel.
Insurers can thus be more customer-centric, drive additional sales, improve customer engagement and retention. The enriched offering on their customers' journey can positively impact their members' health and wellbeing, generate new data-driven risk assessment and eventually influence the claim ratio.
Collaboration with major insurers accelerating geographic expansion
Doubling its insurer clients over the past 18 months and reaching 30 players, CareVoice has also deepened its collaboration and covered more markets with several major insurers: Generali, Cigna and Prudential Financial, Inc. (PFI), a U.S. based multi-national financial services company. The first two new markets being rolled out are Malaysia and Thailand, and the next SEA markets include Singapore, Philippines, Vietnam and Indonesia. Several European and Latin America markets are also in the works. CareVoice plans to be present in 10 markets within the coming 6-9 months.
"In partnering with CareVoice to support differentiated offerings for specific customer segments, we have launched the women care proposition as a first milestone in Hong Kong," said Julian Mengual, Regional CEO, South East Asia & Regional Health Solutions at Cigna. "We look forward to continuing to see the evolution in the benefits that the platform provides and the development of the health services ecosystem that CareVoice can make available for our customers in South East Asia."
"I see three main strengths that our partner CareVoice is bringing to us: Jumping on an existing ecosystem that is up and running gives the advantage of time to market, infrastructure administration that is key for managing the ecosystem and customer experience, and valuable insights into customers and prospects interactions. This ability is particularly valued." said Paul Oudenhoven, Ecosystem Lead of Wellness Services, a PFI company.
Positive EBITDA and new funding
The company has tripled revenues in the last 12 months and has achieved its positive EBITDA target in Q1 2021. While Covid brought many challenges, it also drove insurers' demand for health insurance and digitalized solutions. CareVoice has now reached 4 million serviceable members with 200,000 yearly paid members, growing by 400% in the past 6 months.
In this context, in order to strengthen its teams, accelerate its expansion overseas, and deliver its product roadmap, CareVoice received additional capital, as part of an ongoing B financing round, from new and existing investors, with expertise and valuable resources in healthcare and insurance industry. Participating investors include Apis Insurtech Fund I, managed by Apis Partners LLP, DNA Capital and SOSV.
Matteo Stefanel and Udayan Goyal, Managing Partners and Apis Partners Co-founders noted:
"We are glad to witness that our thesis for open platforms and ecosystem orchestrators across financial services is picking up in the insurance and healthcare sectors. The company has been quickly evolving and successfully partnering with major players in an exciting and under-explored market that has solid macros."