"The largest auto insurance company in the United States was revived in Illinois by a guy who knew nothing about insurance in particular. And it's mutual. He's not supposed to succeed in capitalism," the chairman and chief executive of Berkshire Hathaway said, referring to State Farm.
Saturday's six-hour event was not the first where Buffett referenced State Farm's dominance when asked to comment on the competition between Berkshire's GEICO and Progressive Insurance. "We'll see in five years or 10 years which one of us gets through State Farm first," he said at the 2019 annual meeting. progress "than Tesla, says Buffett")
This time around, however, when TBEN reporter Becky Quick read a question from a shareholder who wanted to know why GEICO lags behind Progressive in terms of revenue growth and underwriting profitability, Buffett n Didn't talk about getting ahead of State Farm. According to him, the auto insurance industry and the success of State Farm should be studied in business schools.
"If you go to business school, you're taught that it's only because you have incentives and compensation, all kinds of things, that businesses can be successful. [But] Nobody really got rich outside of State Farm. They sat there, and they are the biggest insurance company," he claimed. "When Leo Goodwin started GEICO 80 years ago, he probably wanted to get rich," he said, referring to GEICO's founder. "And probably at Progressive, I know people wanted to get rich. And at Travelers and Aetna. You can name them, dozens and dozens of companies. (See related article, "Scoop, That's It: GEICO Boosts Berkshire 2020 Underwriting Profits" for more on Goodwin.)
"And who wins? A mutual company," Buffett concluded.
"In terms of presence, size, they are still the biggest company. If you omit Berkshire, they have the highest net worth by far. They have $140 billion or something in net worth," Buffett said, speculating that Progressive's net worth is about one-sixth that of State Farm.
"We're spending $2 billion a year telling people the same thing we've been telling them for 70 or 80 years." But when all is said and done, "State Farm still does more business than anyone else, and that shouldn't exist under capitalism."
"If you [had] a plan to start a state farm today and had to compete with Progressive, which would bring the capital [for] a mutual society from which you are not going to withdraw the profits? It makes no sense at all," he said.
Progressive still crushing it
Ajit Jain, who chairs Berkshire's insurance operations, spoke ahead of Buffett to give a direct answer to the initial question of Progressive's outperformance over GEICO, conceding as he did in the meeting of last year that GEICO has to catch up with Progressive on telematics. (Related article: "Progressive 'Crushing It' on Profit: Berkshire's Jain and Buffett", May 6, 2021)
"There is no doubt that personal auto insurance is a very competitive business. That said, GEICO and Progressive are two very strong competitors. Each of them has its pros and cons," Jain said.
"There is no doubt that more recently Progressive has done a much better job than GEICO…in terms of margin and growth rate. There are a number of causes for this, but I think the biggest culprit when it comes to GEICO… is ​​telematics.
"Progressive has been on the telematics bandwagon for, I don't know, more than 10 years, 20 years. Until recently, GEICO was not involved in telematics. It's only been two years since we made a very serious effort in terms of using telematics for segmentation and trying to match rate and risk.
"It's a long journey, but the journey has begun and the first results are promising. It will take some time, but hopefully and hopefully in a year or two, GEICO will be able to catch up with Progressive in terms of telematics, and hopefully that will translate to both growth rate and margin," Jain said, drawing applause from shareholders who attended the Omaha meeting in person.
A blind spot?
At the start of the meeting, Buffett briefly reviewed first quarter 2022 results for all Berkshire operations, noting that operating profit of $7.0 billion was essentially unchanged from the first quarter of 2021. The net income, which includes the impact of unrealized losses on investment holdings and realized losses on investment sales, fell to $5.5 billion from $11.7 billion in the comparable quarter of 2021 .
For insurance and reinsurance operations alone, after-tax operating profit fell 38.3% to $1.2 billion. While investment income fell less than 4% to $1.4 billion, Berkshire Hathaway's primary insurance operations suffered on the underwriting side.
Underwriting profit fell 55% to $92 million for commercial primary insurance operations. GEICO did worse, reporting $178 million in pretax underwriting losses, resulting in a combined ratio of 101.9.

Progressive again outperformed GEICO on growth and profitability measures in the first quarter. While Progressive reported a 12% increase in premiums written and a combined ratio of 94.5, up 5.2 points from the first quarter of 2021, GEICO's combined ratio deteriorated by more than 13 points , with premiums increasing by less than 3%.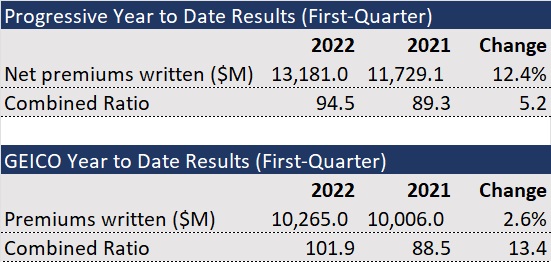 "They're very, very, very disciplined when it comes to underwriting," Buffett said of Progressive, following Jain's assessment of the auto insurance competitor. "Of course, on the investment side, their net worth dropped in the first quarter because they hold a lot of bonds," he added, suggesting that Progressive and "probably everyone in the investment industry Insurance looks like we own bonds because that's what people do."
"There's half the business where you do what people do, and the other half of the business you spend all kinds of time trying to analyze in every county and every way. [how] you can separate, properly assess business and all that," Buffett said.
Progressive, which reports results monthly, released its March and first-quarter 2022 results on April 14. The numbers in this report include $388.6 million in losses on held securities and $54.5 million in realized losses on sales, resulting in a 79% decline. net income to $313.9 million, compared to nearly $1.5 billion in the first quarter of 2021.
The income statement did not provide any commentary on the revenue drivers. An investor relations call is scheduled for Tuesday, May 3.
Says Buffett, "Ajit is responsible for adding more value to Berkshire than Progressive's total net worth. This is not to knock Progressive. I put it like this, [it's] a guy," he said, drawing applause from the crowd in attendance.
At Progressive, shareholders' equity was $17.1 billion at the end of the quarter, according to Progressive's balance sheet as of March 31, 2022, and $18.2 billion at the end of 2021.
Equity in the Berkshire Hathaway conglomerate of insurance and non-insurance businesses exceeds $500 billion, according to the annual report.
Buffett spent a few minutes of his remarks recalling his first meeting 40 years ago with Peter Lewis, one of Progressive's legendary former CEOs. "He was smart as hell, and you knew this guy was clearly going to be a major contender for Berkshire. He knew insurance inside and out – very smart and all. But he just ignored the investment side and that was as important as the underwriting side.
Also praising later Progressive leaders for their underwriting skills, Buffett remarked, "It's interesting to see how organizations operate and then have what I would say are blind spots to some degree. Charlie and I know we have all kinds of blind spots ourselves," he said, referring to Vice President Charlie Munger. "So we have to be careful criticizing others for having them," he said.
Later in the meeting, just before the lunch break, after Buffett offered some philosophical thoughts on 'apperceptive masses' and life lessons on how the human brain can suddenly perceive something it's been staring at for years in a different way (like an optical illusion), he reflected with Munger on the couple's blind spots over the years.
"Part of the trick is forcing you to correct your own mistakes, and much of it we did, often way too late," Munger said, without giving specific examples.
"Is it wise to criticize people?" Buffett asked.
"Probably not. But I can't help it," Munger said, after making several biting comments during the meeting about bitcoin investors and the Robinhood trading platform.
Although neither Elon Musk nor Tesla Insurance were criticized at this year's meeting – unlike in years past – Buffett offered general criticism of tech companies operating as insurance companies during his own discussion on the bitcoin.
Just after explaining that US dollars are the only true currency in the United States in his own discussion of cryptocurrency issues, Buffett observed that people attach "magic to a lot of things" on Wall Street.
"We are not an insurance company. We're a tech company," he said, apparently paraphrasing remarks by an unnamed InsurTech executive. "Well, it's an insurance company… About a dozen people raised a lot of money. They just don't pay attention to the fact that [they] sell insurance… In the end, they bought insurance and have lost a lot of money since then," he said.
More highlights captured by Carrier Management at Berkshire's annual meeting, including details of Berkshire's $11.6 billion deal for Alleghany, Buffett and Jain's thoughts on the risk of nuclear war and the Buffett's comments on tribalism, will be included in the related article, "Dealmaking 101: When Opportunity Comes, You Move, Buffett Says," published April 3.
Source: The Bharat Express